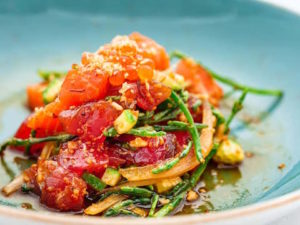 Recently we dined at Roy's in Maui. At the end of dinner, the wait staff explained part of our bill was comped. We said thank you for the kind gesture, but asked why? The wait staff told us the manager comped an item since we had been friends with an ex-manager and since we dine there often.
When we asked how they knew, the wait staff informed us of a database the restaurant staff uses. Evidently, when I talked to the current manager two years ago, I spoke about the ex-manager and he entered that into OpenTable's software.
Fast-forward two years and imagine how I felt when the most expensive item was comped and I was recognized as a loyal customer!
This got me thinking about the value of customer info captured by sales reps. Many companies invest in customer database software but hardly use the captured data. Imagine if sales reps capture accurate/relevant customer data and the info is actually used for sales. At Roy's, customer data is captured, entered into the database and the restaurant uses that info to further build customer loyalty.
What a novel idea! Thank you Roy's for using this software, recognizing a loyal customer and for the delicious dinner! You bet we'll be back again on future trips to Maui.